Water Slides and Dunk Tanks
Water Slide Rentals
When the California heat turns up cool everybody down with Water Slide Rentals from Sacramento Party Jumps! Picture this: your planning an outdoor event and the sun is just beating down on all your guests. Everyone is hot and ready to go home.... Now picture an 18 ft water slide rental plopped in the middle of your party! Instant good time. We offer a wide range of options so you're sure to find the one for your next event. Bring out your competitive side with our NEW Double Lane Wild Splash! Riders will race to the top and slide down their own individual slide into a crash pool. The 2 lanes will keep the lines short and the fun going. Also check out our unique Water Tag Maze! The inflatable maze is fun to navigate and the blast water guns included in the rental will leave your guests soaked and entertained.

A great addition to your Water Slide Rentals are our highly trained and talented entertainers! Balloon twisting is a classic art for kids and adults alike. And we don't know many kids that can resist the fun of face painting.

Sacramento Party Jumps is conveniently located in sunny Sacramento, CA! We proudly serve the greater Sacramento Area. We promise our trained professionals with be courteous and deliver on time. Giving our customers a fun experience is our goal! We know delivering a clean and properly working bouncer is part of the experience. You can count on us! Full service delivery. With over 9,000 parties delivered, we know we can help make your event people wont soon forget!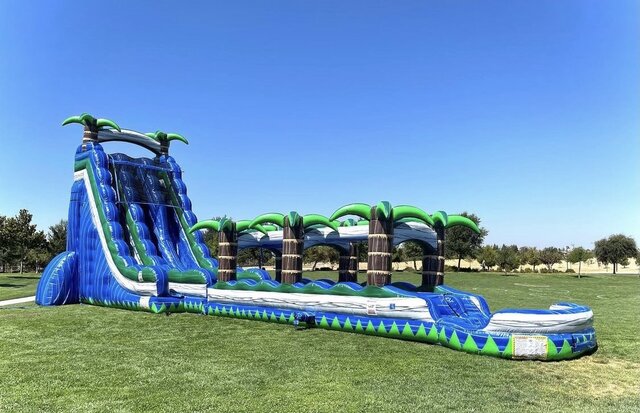 Featured Water Slide Rental
Blue Crush Water Slide With Slip-N-Slide
You deserve only the best for your summer celebration, and that's where Sacramento Party Jumps comes in! Our Blue Crush Water Slide includes a super long Slip-N-Slide to ensure the ultimate fun for your party guests! This exceptional inflatable marvel takes the classic water slide and adds a slip-n-slide for guaranteed party fun!

Prepare your Davis guests to embark on an exhilarating journey as they step foot onto the bright blue steps and climb to the top. The excitement builds right up to the last step and then the effortless drop down to the ultra-long Slip-N-Slide. The cool, cascading water adds an element of thrill and exhilaration with every turn, creating memories that will be etched in your mind forever.

Our Blue Crush Water Slide with Slip-N-Slide is a testament to the ultimate in summer entertainment. It's not just a water slide, it's a captivating fusion of excitement and delight, specially designed to bring smiles to the faces of your party guests!
Book Online Now
Why Choose Sacramento Party Jumps In Davis?
Welcome, party planners! Are you ready to take your event to the next level? Look no further than Sacramento Party Jumps, your ultimate destination for inflatable party rentals that will make your gathering unforgettable! Prepare your party guests for the ultimate experience with our wet and wild water slide rentals! We're on a mission to ensure that your party is a hit, and we'll go above and beyond to make it happen.

Just picture a warm and sunny summer day, laughter echoing through the air, and you and your loved ones splish-splashing your way down a thrilling water slide. It's a perfect scenario for a birthday bash, a church event, or even a weekend of backyard fun! At Sacramento Party Jumps, we offer a variety of water jumper to suit every budget. Rest assured, we'll find the ideal inflatable water slide rental, or even a dunk tank rental that matches your unique Davis occasion, guaranteed.

But wait, there's more! Alongside our fantastic water slide rentals, we also provide a thrilling selection of party equipment and supplies to elevate your event to epic proportions. From bouncing water jumpers that'll turn your party into a water wonderland to cotton candy machines that'll satisfy your sweet tooth cravings, we've got it all covered. So don't waste another second. Browse our inventory to reserve your favorite water jumper, dunk tank rental, or bounce house with water slide today!


Dual Lane Slip-N-Slide Rental In Davis
Get ready for a slipping and sliding adventure! Slip and slides are the ultimate embodiment of pure summertime fun. Your kids will experience a long, colorful runway stretching to the end, covered with water and anticipation. With a running start, they launch onto the slick surface, feeling the exhilarating rush as they glide effortlessly toward the end. It's sheer bliss that can't be replicated anywhere else.

Slip and slides are the epitome of carefree fun for both kids and adults. These inflatable wonders turn any Davis backyard into an adrenaline-packed playground and provide endless hours of entertainment, laughter, and unforgettable memories. Whether you're hosting a birthday party, a family reunion, or a neighborhood get-together, a slip-and-slide adds an extra splash of excitement to the mix.
Book Online Now
Why Choose Us For Your Water Slide Rentals
Our team of experts have perfected the art of setting up the water slides. We have set up at local parks, churches, school events, and block parties. If you decide to host your next event at your local park, please check out their rules and restrictions before booking with us.

Our customers have noticed our outstanding customer service as well as inventory selection. They even mention it in our reviews. Our service and inventory selection are some of the reasons they come back to us for their events year after year and have made us the leading provider for water slide rentals in and around the Davis area. We offer the best customer service around. We do everything we can to take that stress off of our customers by using our online reservation system, having commercial-grade equipment with the latest safety features, and being able to provide all of that with exceptional customer service.

If you need advice, talk to our friendly team if you are uncertain which water slide is the appropriate choice for your Davis party, location, or the age of your guests. We can also discuss the size of the inflatables to ensure you get one that fits the area you have selected for your party.

All our water slide with bounce house and other rental items are inspected, cleaned, and sanitized between each rental for your children's safety. We take great pride in offering a high-grade selection of water slide rentals for your celebrations or events. All our rentals are extensively examined and in pristine condition, ready to go for your next event. Our customers love us for their water slide rentals because they can count on us to provide quality rentals with great service delivered on time, every time.

Whether it's a birthday celebration, a neighborhood gathering, or any special occasion, our team is dedicated to ensuring that your rental experience is as memorable as your event. We look forward to bringing one of our fun water slides to your Davis next party!
Do You Deliver Water Jumper Rentals
Near Me In Davis?
Looking for event equipment rentals in Davis? Well, you have come to the right place. Sacramento Party Jumps is a guaranteed hit! We have been providing high quality event equipment rentals for the City of Davis and its surrounding areas for years. Our bounce houses, water slides, dunk tanks, bounce house with slides, interactive sports games, obstacle courses, toddler playlands, and carnival games. Don't forget to add one of our Concession Machine Rentals to give your guests popcorn, cotton candy and sno cones to give your party another level of enjoyment. We also offer Tent, Table and Chairs rentals to give people a place to gather out of the elements for a while to eat their snacks and gather to socialize and create memories that will last a lifetime.
Our Service Area
Proud to Serve The Following Areas:
If your party or event is beyond that radius, just let us know! We may be able to make special accommodations to suit your event.
NOTE: Fees may vary depending on how far you are outside our service area.
https://www.google.com/maps/embed?pb=!1m18!1m12!1m3!1d99840.02454417125!2d-121.80498369311186!3d38.55679613436891!2m3!1f0!2f0!3f0!3m2!1i1024!2i768!4f13.1!3m3!1m2!1s0x808529999495543f%3A0xc3013f1b6ee28fff!2sDavis%2C%20CA!5e0!3m2!1sen!2sus!4v1645535629309!5m2!1sen!2sus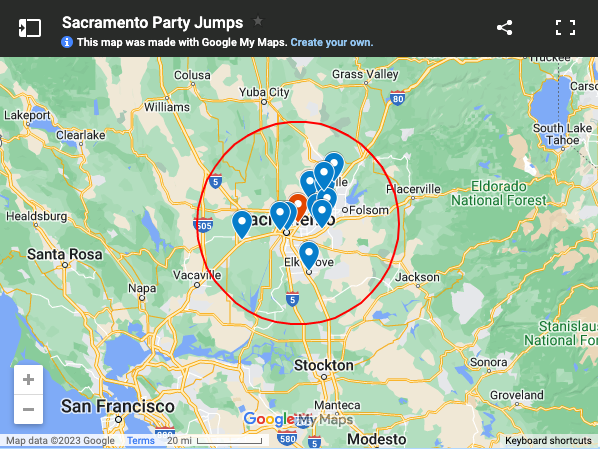 Customers Who Reserve Water Jumper Rentals Also View: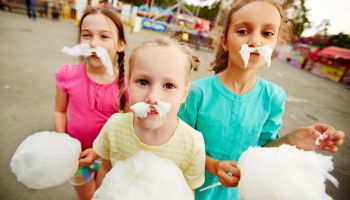 Party Snacks
Concession equipment rentals are the best way to make sure you complete your party. Whether it's a classic popcorn, cotton candy, or the snow cone machine, you can be a party pro with these concession rentals.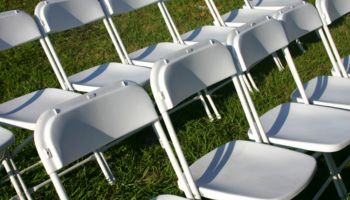 Tents, Tables & Chairs
Every great event needs tents, tables, and chairs to host their guests, and Sacramento Party Jumps we only offer quality tents, tables, and chairs. Tent rentals are necessary for any school, church, corporate, or event!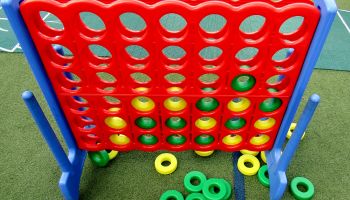 Carnival Games
Easy to challenging, our professionally made carnival games are fun and exciting! Great for any backyard party, company picnic or school event. Great for fundraisers! Giant Connect 4, Giant Jenga, Bubble Machines, and more!
Frequently Asked Questions About Renting Water Jumpers
Does the price include Delivery and Setup?
Delivery and Standard setups are free for most of our rental products for any order that is within 25 driven miles from our business location (1562 Juliesse ave. Sacramento, CA 95815) and meets the minimum order requirements for that area.
What is a standard setup?
A standard setup is a setup that is no more than 100 feet from the delivery truck, where the path to the setup area is clear, smooth, without incline, decline, stairs, hills, mountains, rivers, streams, creeks, bridges, or any other unusual terrain. In other words "Flat". The path must be wide enough for equipment to easily roll through to the setup location. Equipment dimensions along with rolled up sizes can be found by clicking on the "More Info…" link on each item. In most cases your delivery team will consist of one man and a hand truck. Please contact us in advance if your event does not meet our standard setup requirements or if you have questions. Additional fees may apply.
What cities do you deliver to?
Sacramento Party Jumps is conveniently located in sunny Sacramento, California! We proudly serve the greater Sacramento Area. We promise that our trained professionals will be courteous and deliver on time. Giving our customers a fun experience is our goal! With over 15,000 parties delivered, we know we can help make your event one that your friends, family or guest won't soon forget!. Sacramento Party Jumps provides service to the cities of Sacramento, Elk Grove, Roseville, Citrus Heights, Carmichael, Rancho Cordova, and the surrounding areas. We typically stay within a 30-mile radius of our warehouse, but may be willing to travel further for larger events or orders.
What Surfaces do you set up on?
We can set up on Grass (our favorite and best for the kids), dirt, asphalt, and concrete. Sorry, we can't set up on any type of rocks as the constant rubbing will wear through the vinyl jumps.
What about Staking down the units?
Sacramento Party Jumps uses stakes to secure most inflatables or bounce houses. However, it is the customer's responsibility to locate any underground utilities and sprinkler systems before the event and Sacramento Party Jumps is not responsible for any damage to underground utilities or sprinkler systems caused by staking in unmarked locations. It is recommended to call 811 before the event if there are any concerns about underground utilities or sprinkler systems.