Toddler Playlands
Toddler Playlands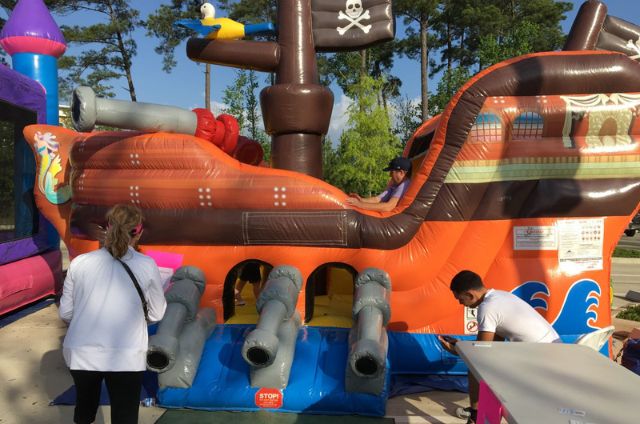 Featured Toddler Playland
Toddler Pirate Ship With Slide
Step aboard the Pirate Ship Toddler Bounce House and set sail on an adventure! This bouncing boat is designed to resemble a real pirate ship, complete with 3D features and a vibrant color scheme that brings a fun pirate adventure to life. Your little ones will be amazed by the realistic cannons, a towering sail mast, a lively parrot, a mesmerizing mermaid on the stern, and two flying Jolly Roger flags!

Safety is our utmost priority, which is why this unit features a double safety entrance/exit, ensuring easy access and exit for all the little pirates. Your toddlers can climb aboard using the climbing wall and slide down to the bouncy bottom.


Book Online Now
We Have A Wide Selection Of Toddler Jumper Rentals
Looking for the ultimate attraction to make your toddler's milestone birthday or playdate an unforgettable experience? Look no further! Sacramento Party Jumps is here to provide the perfect solution for your little one's special day. Brace yourself for an adventure filled with boundless fun and infectious laughter with our exciting toddler jumper rentals!

Immerse your children in a world of imagination and play as they dive into our captivating toddler bounce houses. With age-appropriate yet thrilling slides to zoom down and engaging obstacles to conquer, every aspect of our playlands are meticulously crafted to stimulate their senses and ignite their creativity. Watch their faces light up with sheer joy and wonder as they explore every nook and cranny, interacting with their playmates and making precious memories.

Customer satisfaction is our top priority, and we take great pride in delivering a superior customer service experience with every rental. Our dedicated team is here to assist you every step of the way, ensuring that you find the perfect themed toddler playlands to complement your party's unique theme. Whether it's a roaring dinosaur-themed celebration or an enchanting underwater extravaganza, our selection of toddler jumpers is sure to captivate the imaginations of every child in attendance.

At Sacramento Party Jumps, we understand that creating unforgettable moments for your little adventurers is what truly matters. That's why we go above and beyond to provide an exceptional experience that will leave both children and parents beaming with joy. Allow us to be a part of your toddler's special day, and together, let's embark on a journey of endless laughter, imaginative play, and memories that will be treasured for a lifetime.


Exciting Themed Toddler Bounce Houses
Step into a realm of pure enchantment as your toddler explores our bright and cheerful themed toddler bouncer. Each playland is meticulously designed to transport young minds to extraordinary worlds. From majestic oceans to magical forests, these interactive playlands awaken their senses and ignite their imagination.

Book a themed toddler playland with Sacramento Party Jumps and embark on an unforgettable adventure. Let your child's imagination run wild as they explore enchanting worlds, make new friends, and create memories that will be cherished for a lifetime.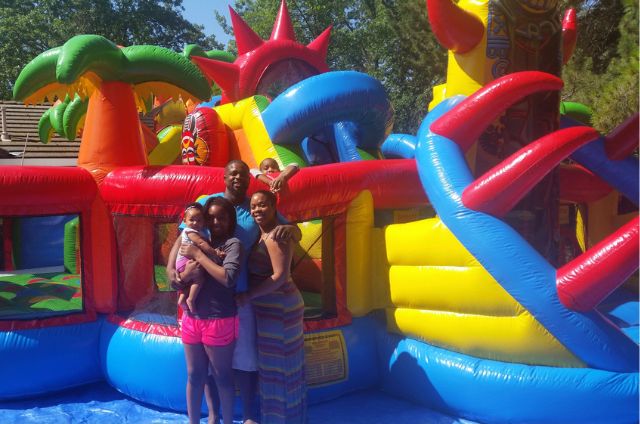 Choose Sacramento Party Jumps For Your Toddler Playland Rentals
Looking to add a touch of wonder and excitement to your toddler's next party? Look no further than the incredible selection of themed toddler playlands from Sacramento Party Jumps. Our toddler playland themes include the ever-popular pirate theme, shark theme, and even movie themes!

Safety is our top priority. Rest assured that our themed toddler bounce house rentals are built with high-quality materials and adhere to stringent safety standards. Equipped with secure netting and bouncy floors, our toddler bouncer provide a worry-free play environment, allowing children to explore, bounce, and have a blast safely with friends.

We understand how busy life can be with toddlers. That's why Sacramento Party Jumps offers affordable rental options without compromising on quality or cleanliness. We take pride in maintaining our equipment to the highest standards, ensuring a clean and sanitized play area for your little ones to enjoy.

Booking a toddler jumper rental has never been easier. With our user-friendly online ordering system, you can browse through our exciting inventory and select your favorite design and secure your rental with just a few clicks. Our seamless process saves you time and allows you to focus on other aspects of party planning, knowing you have the party entertainment taken care of. If you'd like some help in choosing the perfect inflatable for your party, simply give us a call to speak with one of our staff members who can help guide you in the right direction.

Don't miss out on the opportunity to make your toddler's party truly unforgettable. Book a toddler playland rental today with Sacramento Party Jumps and let the magic unfold before your eyes. Trust us to deliver a safe, affordable, and hassle-free experience that will leave both parents and little ones jumping with joy. Feel free to check out our Google Reviews, book your party online, let us take care of the fun at your party and you too will become one of our raving fans.
Do You Deliver Toddler Playlands Near Me?
With Sacramento Party Jumps, the answer is YES! If you are looking for party rental in the Sacramento, CA area? Well, you have come to the right place. Sacramento Party Jumps is a guaranteed hit! We have been supplying all the fun and excitement all along the Sacramento, CA area for years. We specialize in party rentals for events such as but not limited to backyard parties, school festivals, birthday parties, church carnivals, high schools and businesses. We deliver the fun to your location with Giant Slides, Water Slides & Dunk Tanks, Bounce Houses, Bounce Houses with Slides, Carnival Games, Toddler Inflatables, Generators, Interactive Sports Games, and Obstacle Courses. Don't forget to add one of our Concession Machine Rentals to give your guests popcorn, cotton candy and sno cones to give your party another level of enjoyment. We also offer Tent, Table and Chairs rentals to give people a place to gather out of the elements for a while to eat their snacks and gather to socialize.
Our Service Area
Proud to Serve The Following Areas:
Antelope
Carmichael
Citrus Heights
Davis
Elk Grove
Fair Oaks
Rancho Cordova
Rocklin
Roseville
Sacramento
West Sacramento
All areas in between
If your party or event is beyond that radius, just let us know! We may be able to make special accommodations to suit your event.
NOTE: Fees may vary depending on how far you are outside our service area.
https://www.google.com/maps/d/u/1/embed?mid=1JDAljf2H6iMytFJIkWFrIv1DrSfKXHbQ&ehbc=2E312F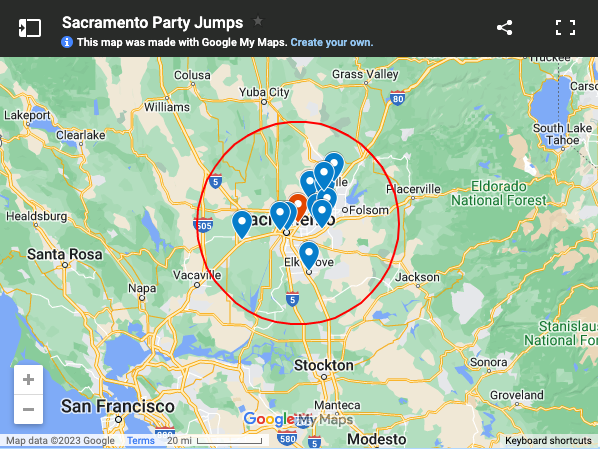 Customers Who Rent Toddler Playlands Also Reserve: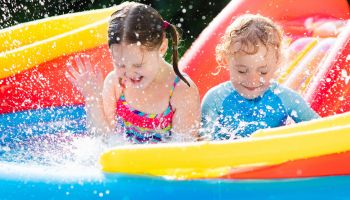 Water Jumpers
When the California heat turns up, cool everybody down with water slide rentals from Sacramento Party Jumps! We have wet and wild water slides that everyone will love. We even slip-n-slides!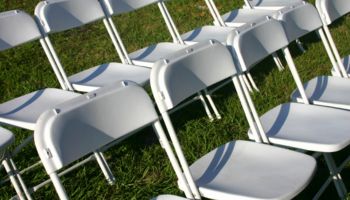 Tent, Table, and Chairs
Every great event needs tents, tables and chairs, and Sacramento Party Jumps we only offer quality tents, tables and chairs. This is an exciting addition to any school, church, corporate, or events.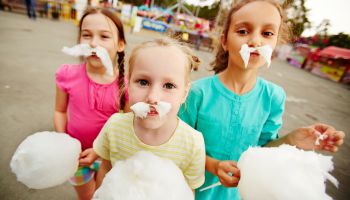 Concession Snacks
Concession snacks are the perfect addition to any party. Whether it's a classic popcorn, cotton candy, or the snow cone machine, you can be a party pro with these concession machine rentals.
Frequently Asked Questions
Does the price include Delivery and Setup?
Delivery and Standard setups are free for most of our rental products for any order that is within 25 driven miles from our business location (1562 Juliesse ave. Sacramento, CA 95815) and meets the minimum order requirements for that area.
What is a standard setup?
A standard setup is a setup that is no more than 100 feet from the delivery truck, where the path to the setup area is clear, smooth, without incline, decline, stairs, hills, mountains, rivers, streams, creeks, bridges, or any other unusual terrain. In other words "Flat". The path must be wide enough for equipment to easily roll through to the setup location. Equipment dimensions along with rolled up sizes can be found by clicking on the "More Info…" link on each item. In most cases your delivery team will consist of one man and a hand truck. Please contact us in advance if your event does not meet our standard setup requirements or if you have questions. Additional fees may apply.
What cities do you deliver to?
Sacramento Party Jumps is conveniently located in sunny Sacramento, California! We proudly serve the greater Sacramento Area. We promise that our trained professionals will be courteous and deliver on time. Giving our customers a fun experience is our goal! With over 15,000 parties delivered, we know we can help make your event one that your friends, family or guest won't soon forget!. Sacramento Party Jumps provides service to the cities of Sacramento, Elk Grove, Roseville, Citrus Heights, Carmichael, Rancho Cordova, and the surrounding areas. We typically stay within a 30-mile radius of our warehouse, but may be willing to travel further for larger events or orders.
What Surfaces do you set up on?
We can set up on Grass (our favorite and best for the kids), dirt, asphalt, and concrete. Sorry, we can't set up on any type of rocks as the constant rubbing will wear through the vinyl jumps.
What about Staking down the units?
Sacramento Party Jumps uses stakes to secure most inflatables or bounce houses. However, it is the customer's responsibility to locate any underground utilities and sprinkler systems before the event and Sacramento Party Jumps is not responsible for any damage to underground utilities or sprinkler systems caused by staking in unmarked locations. It is recommended to call 811 before the event if there are any concerns about underground utilities or sprinkler systems.