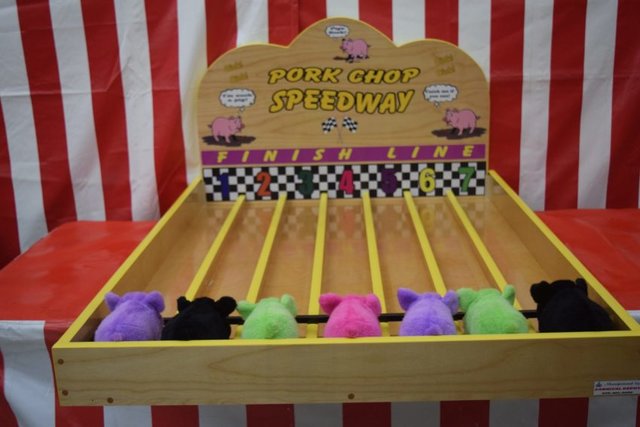 Pork Chop Speedway Plushy Pig Race
Actual Size: 24″H x 35″W x 48″L
Setup Area: 24″H x 35″W x 48″L




7 Lanes, 7 Little battery powered Pork Chops racing to the finish. First little piggy to market wins! Prizes not included.
Introducing the Pork Chop Speedway Plushy Pig Race, the ultimate racing experience for pig enthusiasts of all ages! Get ready for an adrenaline-pumping adventure as you watch these adorable plushy pigs zoom across the track in a thrilling race to the finish line.The star attractions of this exciting race are the plushy pigs themselves. These soft and cuddly pig toys are meticulously crafted with attention to detail, making them the perfect companions for playtime or bedtime.
To start the race, simply wind up the pigs and place them at the starting line. Watch in awe as they sprint across the track, their little legs moving in a blur of excitement. Will your favorite piggy be the first to cross the finish line?
So, gather your loved ones, set up the track, and let the race begin! Experience the joy and laughter that comes with the Pork Chop Speedway Plushy Pig Race, a delightful toy that guarantees endless hours of entertainment for pig lovers of all ages.