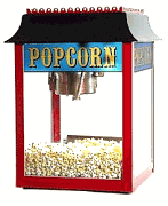 Popcorn Machine with Supplies for 50
Comes with 8 popcorn kits and 50 popcorn bags.
INSTRUCTIONS ON HOW TO USE:
1. Turn on POWER switch. Light will come on in cabnit and bottom warmer will turn on to keep corn fresh.
2. Turn on KETTLE/MOTOR switch and wait about 4 to 6 minutes.
3. Place one measure of oil in kettle (1/3 cup). Immedietly add one measure of raw popcorn (8 oz.) plus seasoning salt and lower kettle lid.
4. While corn is popping, keep front plexiglas doors slightly open to prevent fogging. Keep hopper door at "out" position to aid in catching the stray popped corn.
5. Allow corn to pop until popping ceases; then dump remaining popped corn from kettle by rotating handle clock-wise 1/3 turn and pulling downward
6. Repeat steps 3-5 for additional batches of corn.
7. Wipe excess oil from exterior and interior of kettle as often as possible to prevent burned on oil stains.