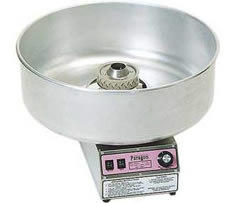 Cotton Candy Machine with supplies for 60
We rent only Gold Medal or Paragon Concession Machines. Gold Medal and Paragon are two US companies that have been in business more than 50 years and are know for their high quality and depenabilty. Includes Cotton Candy Machine base, Bowl and catch netting, one box of Cotton Candy Sugar (3.25 lbs) and 60 Cones. You can add your free sugar and cones on the next screen. Choose either pink or blue cotton candy sugar. If you need more, you can purchase additional sets for $20.00 each. Cotton candy dome can be added for $20.
How to Operate the Cotton Candy Machine
OPERATION
1. Loosen the two shipping travel knobs. (These are the knurled knobs on either side of the motor cover, below the head.)
2. Press the POWER switch to the "ON" position.
3. Fill the spinner head with the desired amount of sugar floss. Never fill the head past the bottom level of the filler spout. (Note: For best results, keep the spinner head full.)
4. Press the HEAT switch to the "ON" position.
5. Turn the HEAT CONTROL knob to heat setting HIGH.
6. Once floss starts to flow out of the head, reduce the HEAT CONTROL to the green range as indicated on the METER. (Note: Too high of a setting will cause cutting of the floss and potentially clog the screen assembly.)
7. When the amount of floss that is being produced starts to slow, add more sugar. DO NOT adjust the HEAT CONTROL knob setting.
8. The typical operating setting on the HEAT CONTROL knob is in the green range on the METER. This will vary due to fluctuations in environmental situations.
SHUTTING DOWN
1. Press the HEAT switch to the "OFF" position. Wait 3-5 minutes for the spinner head to cool down.
2. Press the MOTOR switch to the "OFF" position.
3. For end of day procedures, operate the machine until the remaining sugar floss in the head is gone, and then do steps 1-3. 4. IF THE MACHINE IS TO BE MOVED. Retighten the two shipping travel knobs to prevent damage to the head during transit. (Note: Some smoking may appear as the head is run out of sugar. This is normal and will clean any residual sugar from the screen.)